Driveway Signs - Private Road Signs
(4006)
Blocked in again? Your driveway should always be available. When you need to post a reminder, use
Private Driveway Signs
to prevent turn-arounds or unauthorized parking.
• Avoid direct confrontation with illegal cars – but still show that you mean business.
• Attractive, stylish options look great, but still convey a forceful message.
• Authorized 3M signs carry a 10-year warranty and outlast competitors. These are the same signs sold to generations of municipal buyers for public streets.
• For more information, visit our - Private Driveway or Roads FAQs
Do Not Block Driveway Signs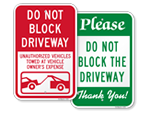 Make sure the neighbors and everyone else knows your rules! Find 100s of designs.

Driveway Parking Signs
For private driveways, and other non-public areas, we've got the signs you need.
More Driveway Signs
(34045)
Frequently Asked Questions
Q.
How useful are private road signs?
A.
Private road signs are extremely useful as these tell people that the road or driveway is not meant for general public use, thereby implying that a violation can amount to trespassing on private property. These signs communicate your property rules and help prevent crowding, turn-arounds, and unauthorized parking on your property.
Q.
Will your private driveway signs withstand rough weather and harsh sunlight?
A.
Our private driveway signs are made using rustproof aluminum and printed using 3M technology designed specifically for outdoor traffic and parking signs. Lamination gives these signs enhanced UV, abrasion, and graffiti resistance. The signs are crafted to withstand water, chemicals, and high temperatures, and last outdoors for years.
Q.
Are there any custom private drive sign options?
A.
Of course there are. Customizable drive sign templates are available for standard as well as designer private drive signs. Most of our other signs let you modify the design and tweak elements such as background and text colors, text, graphics, and font style and size.
Identify our custom signs with the yellow custom marker visible on the top-right corner of the sign thumbnail. To modify the design of a stock sign, click on the "Tweak Design" button given below the sign image on the product page.
Q.
How do retroreflective driveway signs help?
A.
Retroreflectivity refers to a material's ability to return a significant portion of directed light to its source, and finds extensive application in traffic control. Retroreflective private drive signs appear brightest to those who are closest to the light source and hence, provide visibility at night as well and are rather difficult to miss.
Q.
What are some other options for private road signs apart from regular wall mountable signs?
A.
In addition to wall mounting, most of our private road signs can be ordered and installed with a cast iron base. These are perfect for schools, offices, restaurants, and parking lots. Our ConeBoss signs flaunt injection-molded no-flop design and are suitable for driveways and parkings.
You may also opt for our private road shield sign that is available in aluminum as well as laminated plastic label material options, and do a better job of grabbing attention than regular rectangular signs. Private Drive Stencils are a great way to mark your road as well.
Q.
Do you provide sign attachment accessories?
A.
We offer a variety of sign attachment accessories. We have created kits that you can choose from during checkout. These come with bolts, tamperproof nuts, EZ-clips, and brackets for attaching signs to a post, fence, or wall. You may also opt for signposts and bases for portable signs - choose between an 8' tall u-channel sign post kit and cast iron stand with a 48" tall post.
You may also order a variety of sign attachment hardware and sign posts separately from our website. Portable sign kits are also available in a range of messages and come with sturdy cast iron and plastic bases and posts.
Customer Reviews