Driveway Signs - Private Road Signs
(4006)
Blocked in again? Your driveway should always be available. When you need to post a reminder, use
Private Driveway Signs
to prevent turn-arounds or unauthorized parking.
• Avoid direct confrontation with illegal cars – but still show that you mean business.
• Attractive, stylish options look great, but still convey a forceful message.
• Authorized 3M signs carry a 10-year warranty and outlast competitors. These are the same signs sold to generations of municipal buyers for public streets.
Do Not Block Driveway Signs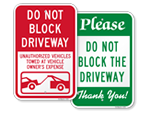 Make sure the neighbors and everyone else knows your rules! Find 100s of designs.

Driveway Parking Signs
For private driveways, and other non-public areas, we've got the signs you need.
More Driveway Signs
(34045)
Customer Reviews