Do Not Block Gate Signs
(49733)
Don't let someone block you in! Post
Do Not Block Gate Signs
so that drivers realize you need 24/7 access.
• Add a tow-away threat to show you mean business.
• Find both generic signs and our more popular designer series – available in six different colors.
• All signs use premium 3M materials and have an outdoor life of 10+ years. Signs are made just like the signs that we sell to countless cities and states across the U.S. for public streets.
Do Not Block Driveway Signs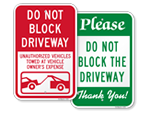 See more designs. Don't let the public park freely on your own driveway!
Customer Reviews