Motorcycle Parking Signs
(25979)
You want to ride your bicycle, but you need to know where to park it. Provide designated parking for
bikes and motorcycles
. They take up less space than cars, so you can easily add spaces in your lot.
• Start with a simple message or try a reusable stencil for several signs.
• In standard green and white, or bright yellow for tight intersections.
• Before you ride off, check out our designs below to find your perfect fit.
Bike Parking Signs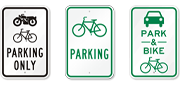 Choose from our large selection of bicycle parking signs here!

Motorcycle Parking Only Sign
Check out the features of our Motorcycle Parking Only Sign in this video.
Customer Reviews