63784
Pedestrian Crossings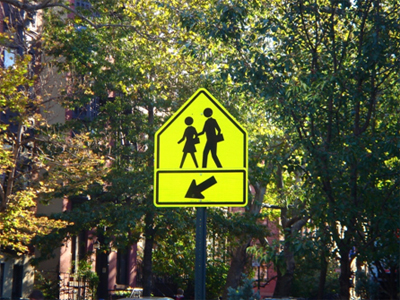 What Is A Pedestrian Crossing?
Pedestrian crossings are areas designated for foot traffic, that are intended to increase pedestrian safety and facilitate the flow of vehicular traffic. They are absolutely vital in maintaining order in the streets and protecting both drivers and pedestrians on the road. While pedestrian crossings have been around for quite some time, their definition and markings have changed and evolved over the years.

In 1992, the Uniform Vehicle Code
1
defined a crosswalk as "part of a roadway at an intersection included within the connections of the lateral lines of sidewalks… or elsewhere distinctly indicated for pedestrian crossing by lines or other markings on the surface." According to this definition crosswalks at intersections need not be marked if they occur as a continuation of a sidewalk at an intersection. However, the
Manual on Uniform Traffic Control Devices
stipulates that a crosswalk may be marked with paint or other materials.

Most commonly in the United States and around the world, crosswalks are denoted by zebra crossing stripes, alternating between white and a dark color. These stripes are used both at intersections with lights and crosswalks without lights. In general, pedestrians are given the right-of-way at all crossings, though this absolute focus on pedestrians has historically resulted in mixed safety results.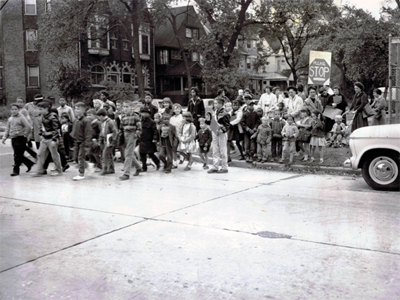 History of the Pedestrian Crossing, and its Effectiveness
The first country to actively attempt pedestrian safety was England
2
. Prior to motor vehicles, foot traffic would compete mostly with horse and carriage traffic. Early regulations involved mandatory forfeiture of any animal or cart involved in a fatal accident. However, those regulations soon changed to encourage people to adopt more mobile transport, leading to an increase in pedestrian fatalities.

The use of designated foot traffic crosswalks with lighted indicators and zebra stripes began in England and is still in use today. The signals were manufactured by railway signal makers and consisted of a lever that was raised and lowered by a police officer.

In 1929, local traffic authorities
3
could designate crosswalks for pedestrians, but pedestrians were granted right of way over all vehicles so long as they adhered to traffic signals. By 1955, legislature required "walk" and "don't walk" signals at intersections. Crosswalks near schools and in residential areas with heavy pedestrian traffic receivedadditional markings and signs. By 1978, laws were passed to ensure all vehicles must yield to pedestrians on curbs or in crosswalks, while pedestrians must yield to vehicles when not in these locations
4
. This law reflects a growing awareness of different parties on the road, and effectively prohibits "jay-walking" or crossing outside of a clearly marked pedestrian crossing. The exceptions to these rules stipulate that vehicular and foot traffic must yield to emergency vehicles with lights or sirens. In 1994, crosswalk rules were slightly amended to require drivers to grant right-of-way to pedestrians, and not just yield.
Some Relevant Statistics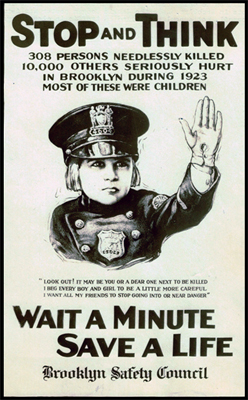 Even with all of these regulations, pedestrian fatalities continue to occur. While all pedestrians are at risk, the National Highway Traffic Safety Administration
5
finds that young boys between the ages of 5 and 9 are most likely to be involved in a pedestrian crash, while older people, though less likely to be hit, are more prone to suffer a fatality. The NHTSA also finds that speeding is a contributing factor in about one third of fatal crashes, and alcohol is involved in approximately 40%. With an estimated 70,000 pedestrians killed yearly worldwide in motor vehicle collisions, the importance of firm laws, proper signage, and careful attention is clear.
Crosswalk Signs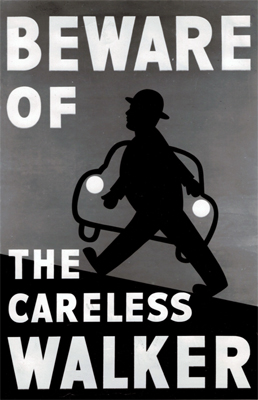 Perhaps the greatest defense against pedestrian collisions is caution from both motorists and pedestrians alike. Pedestrian crossing signage, usually a yellow pentagon- or diamond-shaped sign with two figures walking, can warn drivers on approach to areas with heavy foot traffic. Zebra crossings and standing signs advising drivers to yield also serve this purpose. Additionally, pedestrians need to be mindful of crossing in the proper places. Jay-walking, or crossing outside of crosswalks, can be dangerous, as drivers are often unprepared for an unexpected pedestrianin the street.
Cities have always seen high levels of pedestrian collisions, and taking precautions with safety has been shown to successfully lower the number of fatalities and accidents. Showing respect and sharing the road are the easiest ways to lessen the danger that pedestrian traffic poses.
Since the days of horse drawn chariots and through the changes in transportation, pedestrians have always competed for safe road space. Signs and markings help them achieve safer roads, but only as much as the people on the road pay attention to those around them.