Help golfers along using
Golf Cart Parking and Crossing Signs
. Maintain a good flow of golf cart traffic on the course and at the clubhouse. We have signs to designate cart parking spaces as well as point out golf cart paths, restricted areas and crossings zones. Made from reflective and heavy duty aluminum material these signs will stand up to rain, wind, flying golfballs and minor vandalism.
• Need help with your order or can't find what you're looking for? We'll answer all of your questions here.
Golf Cart Crossing Signs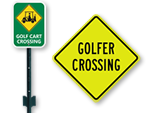 Alert traffic to the presence of motorized carts on shared road with the help of durable and bright golf cart crossing signs.
Customer Reviews