Land Recreation Signs
(30611)
Mark land recreation areas from the road, so drivers don't miss out. Our affordable, hi-quality recreational and cultural interest signs meet or exceed Federal MUTCD guidelines.
• Heavy-duty aluminum signs last 10+ years outdoor, resisting degradation by weather and rough handling.
• All land recreation signs are reflective, offering excellent visibility both during the day and night.
• Pre-cleared holes, one in each corner, allow easy and hassle-free installation.
Campground Guide Signs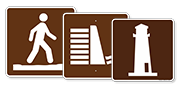 Mark everything you need, from phones to First Aid — with our MUTCD compliant campground guide signs.
More Recreation Signs
(107856)
Customer Reviews