Mini Traffic Signs
(84753)
Looking to post traffic signs, but don't have too much room available? Our Mini Traffic Signs are the perfect answer to that problem.
• Just like the real sign, but smaller. These are ideal for your warehouse, offices and corridors to name a few.
• Signs are all available in Diamond Grade Reflectivity.
• For slightly larger signs, search our traffic sign legend and you will find that most traditional highway signs are available in 12" x 12" sizes.
Portable Traffic Signs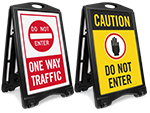 Place these traffic signs just where they will be seen.
Customer Reviews