Make it easy for people to find the services they need, whether it's a gas station, picnic area, or post office. Our affordable, hi-quality motorist services signs meet or exceed federal MUTCD guidelines.
• Signs are made using heavy-duty aluminum signs, and last 10+ years outdoor, resisting degradation by elements and rough handling.
• All motorist service signs are reflective, displaying your message clearly both during the day and night.
• Pre-punched holes, one in each corner, allow hassle-free installation.
Accommodation Signs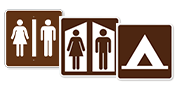 Aluminum heavy-duty signs made from rust-free material outlast weather.
Related Campground Signs
(112831)
Customer Reviews