Custom Blue Street Signs - 6" High Signs
(70401)
In many states, the blue colored street signs are used to indicate privately maintained roads. It is a quick reference for maintenance personnel regarding public or private roadways.
Custom Blue Street Signs
are available in two design types: All Capital Letters or Upper- and Lower-case Letters. Capital letters are traditionally popular. The MUTCD suggests the use of upper- and lower-case letters for better readability.
• Add a logo or graphic to your signs at no additional cost.
• Our sign sizes range from 6 inches x 18 inches to 6 inches x 36 inches (height will remain fixed at 6").
• Choose a template here and select size, material, and other options on the next page.
Look for this Symbol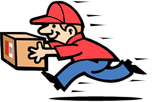 Ships Monday
. Order within
00 hrs 00 mins
Customer Reviews