Personalized Street Signs
(70156)
Personalized street signs
are a great addition to your personal space. Place them in your room, garage, or office for a hint of fun. The
custom metal street name signs
offer 3M warranty for durability which last over 10 years.
• Civic street signs meet most local and state specifications.
• Nob Hill street signs are a favorite among shopping centers, and upscale or private communities.
• Keepsake novelty street signs are the perfect gift for friends and family who know how to get their way.
Custom Street Sign Quote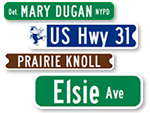 In a hurry? Get a quick quote on some custom street signs.

Personalized Street Signs
Order the exact same signs bought by municipalities all over the country.
Custom Street Signs (select your material)
(70288)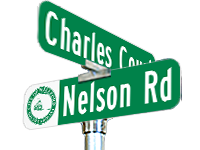 Our best-selling, reflective street signs.
Double-sided with 3M's 10 year warranty.
Just $27.95.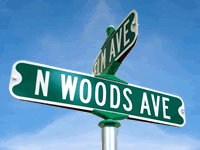 Tough and timeless street signs, in 4 colors.
Double-sided, with 3M reflective films.
Only $44.95.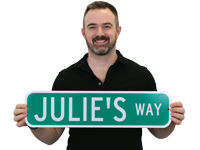 Great for gifts, but not reflective.
Single-sided, with 3M's durable inks and films.
Custom orders start at $16.95.
Street Sign Posts and Sign Brackets
(70293)
Professional sign buyers choose these same posts and brackets. Order the best option for your signs below, all at the best prices online.
Customer Reviews