Personalized Street Signs
(70156)
Personalized street signs
are a great addition to your personal space. Place them in your room, garage, or office for a hint of fun. The
custom metal street name signs
offer 3M warranty for durability which last over 10 years.
• Civic street signs meet most local and state specifications.
• Nob Hill street signs are a favorite among shopping centers, and upscale or private communities.
• Keepsake novelty street signs are the perfect gift for friends and family who know how to get their way.
• For more information, visit our - Personalized Street Signage FAQs
Custom Street Sign Quote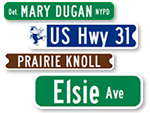 In a hurry? Get a quick quote on some custom street signs.

Personalized Street Signs
Order the exact same signs bought by municipalities all over the country.
Custom Street Signs (select your material)
(70288)
Industry's best-selling Street Signs that can be customized in seconds! Choose from multiple styles, colors and reflectivity grades. Classic designs meet modern elements!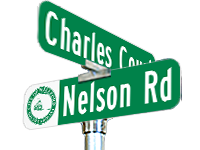 Our best-selling, reflective street signs.
Double-sided with 3M's 10 year warranty.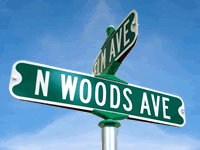 Tough and timeless street signs, in 4 colors.
Double-sided, with 3M reflective films.
Only $44.95.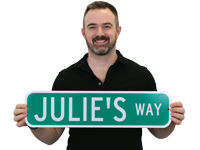 Great for gifts, but not reflective.
Single-sided, with 3M's durable inks and films.
Custom orders start at $16.95.
Street Sign Posts and Sign Brackets
(70293)
Professional sign buyers choose these same posts and brackets. Order the best option for your signs below, all at the best prices online.
Frequently Asked Questions
Q.
How big should my custom street sign be?
A.
The size of your street name sign will depend on the length of the street name - longer street names will require longer signs, and the sign height will depend on where the sign is to be placed. While the MUTCD does not specify sign height requirements, it does mention the letter height with respect to mounting type, street/highway type, and speed limit. You may access complete information here.
Q.
Can personalized street name signs be of any color?
A.
For personalized street name signs to be MUTCD-compliant, they can only be green, blue, brown, or white. The legend on the green, blue, and brown street name signs should be in white and that on white street name signs should be black.
Q.
Can street name signs be customized with images?
A.
You may add an image or a pictograph on a D3-1 custom street name sign on the left side of the text, as stated in MUTCD Section 2D.43. Additionally, the image's height and width should not be more than the legend's uppercase letter height.
Q.
Do your custom street signs comply with city/state rules?
A.
We offer civic street signs that meet most State and local specifications. Available in 6" tall blade with 4" letters or 9" tall blade with 6" letters, these official signs are a favorite with municipal bodies. Choose from green, blue, brown, and white signs, available with and without borders.
Q.
Do you provide street sign installation equipment?
Q.
Are there any customized street signs for neighborhoods?
A.
While any of our street name sign templates can be customized as required, our Nob Hill classic street signs are a hit with historical neighborhoods, shopping centers, and private communities. These double-sided signs are made of heavy-duty plates available in four colors and give you a choice to add a logo as well.
Q.
Who can use your keepsake novelty street signs?
A.
Made using heavy, durable materials, keepsake novelty street signs are built to last over 10 years outside and let you add stylish messages. These signs are great for use in personal/private spaces like homes and offices, and make an excellent gift for family and friends.
Q.
Who should I contact for order edits or artwork modifications?
A.
You may email us at [email protected] with your order number in the subject field and we shall be happy to help you.
Q.
How soon can custom street signs be shipped?
A.
All our custom items are made to order and can take anywhere from 3-5 business days in production before they are shipped. The order is released into production the next business day after the proof is approved.
Q.
I need to place a bulk order for different custom street signs. How can I get a quote?
A.
There are two ways to do this. You may use this street sign quoter that lets you select the sign shape, size, material, quantity, and color, as well as provide artwork and generates an instant quotation based on the selections made by you.
Alternatively, you may provide us with a list of your streets and we will gladly set up an official quote for you. You may contact us at [email protected] or 800 952 1457.
Customer Reviews