Maximum Speed Limit Signs
(34262)
Enforce your
Maximum Speed Limit
to help save lives. Prevent crashes by warning drivers of the appropriate speed. You'll enforce the speed limit, so post your signs today.
• Remind drivers to slow down and stay within the limit.
• Posting maximum speed messages helps to save lives.
• Made from long-lasting, heavy-duty aluminum for durability.
• Questions? Call our live team now!
Custom Speed Limit Signs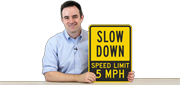 If too many people seem to be trying to drag race on your property, you should post a Custom Speed Limit Sign to remind them to slow down.
Other Speed Limit Signs
(111846)
Customer Reviews