Speed Limit Signs
(26196)
Prevent accidents with our
speed limit signs
, the same we supply to government customers, which meet DOT and MUTCD standards. Messages start from as low as 5 mph.
• 3M's 10 year warranty in 3 grades of increasing reflectivity.
• Premium, durable films and inks. Great quality at affordable prices. Browse our popular signs below to get started.
• Learn more about the history of speed limit signs.
• For more information, visit our - Speed Limit FAQs
Custom Speed Limit Signs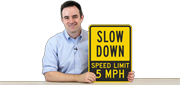 Start with a custom template below to design the perfect sign for your area.
Speed Limit Signs - Featured Departments
(34015)
Frequently Asked Questions
Q.
Fluorescent, reflective, or non-reflective - which Speed Limit Signs have the best performance?
A.
If you're looking out for daytime visibility, standard non-reflective aluminum signs will work just right. Reflective signs are a step up and offer greater visibility at nighttime. Reflective Speed Limit Signs come in three grades - Engineer Grade, High Intensity, and Diamond Grade. Retroreflective signs return light to its source. Almost all of the light striking at the sign's surface from the vehicle's headlights is reflected back to the driver's eyes. The best reflectivity, however, comes from fluorescent speed limit signs that combine the high conspicuity of fluorescent colors with great nighttime reflectivity and the wide-angle performance of 3M micro prismatic lens technology.
Q.
What does "3M's 10-year warranty" exactly mean?
A.
With "3Ms 10-year warranty", we mean that all our aluminum and reflective aluminum signs will be free from defects in materials and workmanship for ten years from the date of purchase. This warranty is provided by 3M, the pioneer in reflective films, inks, and laminates.
However, there are some exceptions to this claim. The limited warranty does not apply where the defect is:
Due to a typographical error, whether on stock products or custom products;
Due to goods being used or handled in a manner, in circumstances, or for purposes other than those approved or instructed by SmartSign;
Due to modification, tampering, improper storage, abuse, accident, vandalism, neglect, misuse, mishandling, or pressure-washing;
Due to fire, earthquake, flood, lightning, hurricane, tornado, windstorm, foreign object impact, landslide, or any other Act of God;
Due to damage caused by vegetation, insects, animals, and other organisms.
Due to exposure to corrosive substances such as solvents, gasoline, pesticides, harmful cleaning compounds, and similar materials.
Due to exposure to excessive heat or reflective heat sources.
See our terms for more details on the warranty.
Q.
Do you offer discounts on bulk quantity orders?
A.
Yes. Quantity discount is an incentive we offer that results in a decreased cost per unit of goods or materials when purchased in greater numbers. However, all items must be of the same design, size, material, color, and print.
Q.
How can I add a black arrow on a custom Speed Limit Sign?
A.
While placing the Custom Speed Limit Sign order, you will find an instruction box "Special instruction for my order". Just leave the instructions like adding a left-pointing, black colored arrow, or an additional line to your custom sign-in that box. Our team will send the proof to you for your approval. We have a highly-skilled design team to make sure all custom orders are perfectly personalized at no extra cost!
Q.
Do these Speed Limit Signs come with sign posts?
A.
Our Speed Limit Signs come without sign posts and mounting hardware. You can purchase sign posts separately. Choose between our high-strength, economic, and galvanized posts. U channel posts are our best-selling posts.
Q.
I want to install a Speed Limit 20 Sign outside my driveway. Is it legal to do that?
A.
The best course of action is to contact your traffic law enforcement agency or your state's DOT to know the legality of installing speed limit signs outside your driveway. First, it should be confirmed whether the street outside your driveway is state-owned or maintained by an HOA or road maintenance organization. Speed limits on "roads open to public travel" are controlled by general statutes and local and state ordinances and you should confirm with the person(s) in charge.
Q.
I live in Connecticut. Which Speed Limit Sign should I buy?
A.
In Connecticut, the official speed limit is 65 MPH for rural interstates and other limited-access roads. For urban interstates and other roads, the speed limit is 55 MPH. Have a look at our 55 MPH signs. Use our Custom Speed Limit Signs which can be printed with any speed limit value.
Customer Reviews