No Biking on Sidewalk Signs
(53520)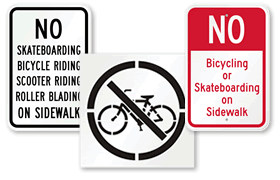 Protect your private property against activities like skateboarding and biking. Set the rules of your valued premises loud and clear with these Sidewalk Signs prohibiting skateboarding, biking and other such loitering activities.
• Bright and clear graphics make the signs instantly recognizable.
• For more information hover over the signs or click on them. Call our customer service for quick assistance!
No Bikes Allowed Signs - More Designs

Choose from a variety of no bike, skateboard and roller blading signs
No Biking on Sidewalk Signs
(53520)
© 2021, RoadTrafficSigns.com
Order online 24 hours a day
using secure checkout.
Pay by: