Make it easier to get around on a bike with our selection of Bike Signs.
• We create signs that are guaranteed for 10 years. We make signs for a large percentage of cities across the US. These are the same signs ordered and proven to last by these discerning customers.
• Most signs are available in different grades of 3M reflectivity that comply with DOT rules.
One Way Signs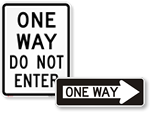 Find both stock designs and custom templates, so you can add a unique message.
Customer Reviews