Nob Hill Street Signs: Brown Street Name Signs - 6" High Signs
(70458)
Signs are visible from both sides, so that street names can be read from either direction.
• Choose between upper case and lower case options.
• Our live support team is here if you need anything.
6" High Street Signs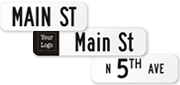 These custom signs are easy to personalize and install as well!
Other Street Signs
(70470)
Customer Reviews