Reflective Delineators
(34051)
Reflective delineators
and
post panels
are easy to see, day and night. Place these on posts, fences, or a wall. Distinct colors and designs will stand out on your property.
• Affordable delineators use premium 3M materials.
• Scroll below for more details on sizes and prices.
• Choose a fluorescent option for even greater visibility.
Object Markers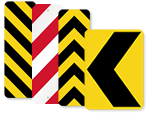 Mark objects clearly and unambiguously with these standardized object markers.
Customer Reviews