Mark obstructions or hazards adjacent to your road with our easy to see
object markers, chevron signs, reflective delineators and post panels
.
• Our heavy-duty aluminum outlasts the competition, and our range of reflective materials are easy to spot, day and night.
• The diamond grade and high intensity Object Markers offer superior reflective angularity – which is a major advantage for these types of markers.
• MUTCD compliant where noted.
• Contact our customer service team for more information.
• For more information, visit our - Object Markers FAQs
Reflective Delineators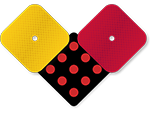 Reflective delineators and post panels are easy to see, day and night.
Other Related Signs
(99816)
Frequently Asked Questions
Q.
Are your object markers, delineators, and post panels retroreflective?
A.
Yes. All the object markers, delineators, and post panels are retroreflective. Our products come with 3M reflective sheeting that meets or exceeds MUTCD specifications for reflectivity. Retroreflectivity is one of the many factors associated with maintaining nighttime visibility. Our signage offers excellent visibility in the day and reflects brilliantly at night when lights from headlights or flashlights strike on the surface. 3M Hi-Intensity Prismatic signs meet most federal and state guidelines on reflectivity. We also have Diamond Grade reflective signs which is the brightest sign material produced by 3M. These signs offer three times the reflectivity of Hi-Intensity and ten times the reflectivity of Engineer Grade reflective signs.
Q.
What color options are available for post panels?
A.
Post panels are retroreflective and available in highly visible colors listed below. Some of them feature diagonal stripes in two contrasting colors and others are plain.
-Yellow/Black
-Red/White
-Green/White
-Blue/White
-Fluorescent Lime Green
-Yellow
-Red
-Silver
Q.
What is the thickness of your object markers?
A.
All our object markers are available in 80 mil thickness. Type 2 Object Markers (X-OM2-2H and X-OM2-2V), though, are available in 63 mil Engineer Grade Reflective aluminum too, along with the 80 mil variants. Made of industrial-grade, heavy-duty, rustproof aluminum, the markers do not bend or warp. Both Hi-Intensity and Diamond Grade Reflective Aluminum Signs are available in the same 80 mil thickness. Guaranteed to last for 12 years outdoors, this aluminum gauge will easily withstand harsh weather conditions, storms, winds, and abuse.
Q.
What is the difference between a right object marker and a left object marker?
A.
Type 3 object markers with stripes that begin at the upper right side and slope downward to the lower left side are called Right Object Markers (OM3-R).
Object markers with stripes that begin at the upper left side and slope downward to the lower right side are called Left Object Markers (OM3-L).
Q.
I need some economic object markers. Do you have any options?
A.
Yes. Our non-MUTCD-compliant object markers, which are smaller in size, are more economical options for customers looking for low-priced object markers. Rather than the 12" x 36" object markers that comply with MUTCD, you can go for 8" x 24" object markers. Such smaller markers work great for private driveways or other private roads which are not open to public use.
Q.
How is Fluorescent Diamond Grade reflectivity better than Hi-Intensity and Engineer Grade reflectivity?
A.
3M Diamond Grade Fluorescent Signs are 80 mil thick and offer 12+ years of durability.Fluorescent Object Markers are seen 75% quicker than conventional aluminum signs. The signs are three times as reflective as Hi-Intensity Grade signs and offer ten times the Engineer Grade signs' reflectivity.
The high-gloss fluorescent finish attracts attention and enhances visibility even when seen against a visually complex background or by a distracted driver.
Fluorescent signs appear to glow, even in the daytime. These signs are uniquely conspicuous at the most dangerous times of the day (at dawn and at early evening times).
Q.
I need multiple Chevron alignment symbol signs? Do you offer a bulk quantity discount?
A.
Yes, we do offer bulk quantity discounts on Chevron Alignment Symbol Signs and all other products. Quantity discount is an incentive provided that results in a decreased cost per unit of goods or materials when purchased in greater numbers. However, all products you order must be of the same design, size, material, color, and print to qualify for bulk quantity discounts.
Customer Reviews