Street Sign Brackets
(70503)
Try a pair of resilient
street sign brackets
, durable enough to even outlast your signs. We've carefully designed and perfected our brackets for quick, easy installation.
• Don't let a bracket ruin your whole installation. Order quality materials so you'll know your signs will stay put.
• Different signs need different brackets, so double-check your specifications so you get exactly what you need.
• Questions about your brackets? Give us a call.
Sign Attachment Hardware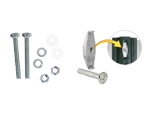 This selection is based on a lifetime of work in the field. We have the best professional options of mounting available for your choosing!
Customer Reviews