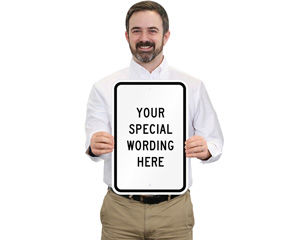 Let's narrow down your choices a bit! Choose a color scheme or design that you like best. It takes under a minute to design your own custom sign. You don't have to be an artist to design a custom traffic sign!
• The templates at the top show various color options. The classic traffic sign uses black print on a white background.
• Or, you may want to drill down by template type – reserved parking, dead end signs, speed limit signs, etc. You'll find lots of easy-to-customize templates. Just add your text.
• You will be able to add your personalized legend, change fonts and colors and select materials on other screens.
Do you have your own art?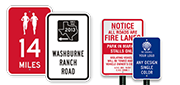 Click here for designs that don't fit into a template. We'll make a totally custom design based on your rough sketch or uploaded art.
Drill Down for More Templates
(34470)
Customer Reviews