Custom Traffic Signs
(53927)
Trying to regulate your roads? A
custom traffic sign
lets you easily mention oncoming traffic, change the speed limit, or add custom text to guide drivers through a detour.
• Browse through the collection to find your specific message.
• Our standard heavy-duty aluminum outlasts harsh weather.
• Choose from standard, reflective, or premium signs.
• Questions about your signs? Don't hesitate to give us a call.
Custom Signs by Shape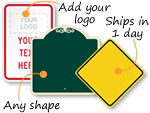 Check out all of our templates or upload your own design.

Custom Traffic Signs
You'd be suprised at how many ways you can customize a traffic sign. Take a look.
Custom Traffic Arrow Signs
(106291)
Custom Traffic Sign Templates by Category
(53930)
Customer Reviews