Don't keep your visitors, guests, or patrons guessing about which way to go. Use a directional sign to help them find their destination. A simple 6 inches into 18 inches Arrow Shaped Sign can save precious time in navigation and simplify wayfinding on your property.
• Our 6" x 18" signs are fully customizable. Choose a template from our gallery and go ahead.
• Add your personalized text and choose a color scheme. Customization is FREE.
• We also offer Arrow Signs With Golf Carts for golf courses.
Custom One Way Signs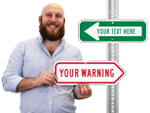 Customize your sign in seconds with directional text and arrows.
Related Custom Road Traffic Signs
(112106)
Customer Reviews