Don't keep your visitors, guests, or patrons guessing about which way to go. Use a directional sign to help them find their destination. A simple 6 inches into 18 inches Arrow Shaped Sign can save precious time in navigation and simplify wayfinding on your property.
• Our 6" x 18" signs are fully customizable. Choose a template from our gallery and go ahead.
• Add your personalized text and choose a color scheme. Customization is FREE.
• We also offer Arrow Signs With Golf Carts for golf courses.
Custom One Way Signs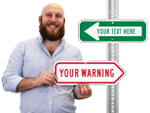 Customize your sign in seconds with directional text and arrows.
Look for this Symbol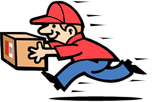 Ships Today
. Order within
00 hrs 00 mins
Customer Reviews
Size: 6" x 18"
Material Type: High Intensity Grade Reflective Sign, 80 mil Aluminum
Verified Purchase
Excellent signs - Perfect for our needs
This sign was perfect for our needs. The quality is excellent.
Size: 6" x 18"
Material Type: Heavy-Duty Aluminum Sign, 80 mil
Verified Purchase
Perfect
Great quality. Fast delivery!