Customize our 6" x 24" Arrow Signs with your own message. Enter any direction, name of a street, your instructions, or a warning on our customizable Arrow Shaped Signs. Customization is FREE!
• Pick a 6 inches x 24 inches template from our gallery below and start customizing.
• Our aluminum signs last for years outdoors.
• We offer reflective signs too that are visible in the dark.
Custom One Way Signs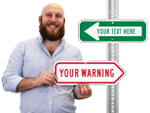 Customize your sign in seconds with directional text and arrows.
Related Custom Road Traffic Signs
(112172)
Customer Reviews