Aircraft Warning Signs
(71363)
Owners of small airfields need to warn drivers and pedestrians to watch out for aircraft near an active runway.
• Reflective signs are easily spotted at night. All signs use 3M's industry-standard traffic sign material, and carry a 10-year warranty.
• You can also use these signs to mark airport entrances.
Helicopter Area Signs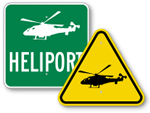 Wind and noise warnings. Mark landing zones as no parking areas.
Customer Reviews