Pedestrian & Sidewalk Stencils
(54701)
We're showing off a few of our popular
pedestrian and sidewalk stencils
. Available in a range of sizes.
• Choose from a range of bold warnings and simple notices.
• Great for crosswalks and bike lanes.
• If you'd like to make a custom stencil, check out our custom templates to get started.
Stencil Ink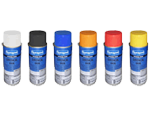 Choose from various colors of our specially formulated stencil ink.
Other Related Stencils
(85954)
Customer Reviews