Creating new bike lanes in your area? Want to make more Bicycle Signs? Our Bicycle Stencils are the answer. Durable and long lasting, what's not to love?
• Bike Stencils can be used hundreds, even thousands of times. Create signs, bike lanes and parking areas with just one stencil.
• Creating a bike lane takes only minutes. Simply place the stencil on the ground and paint using our long lasting spray paint.
• Our full collection of Bike Stencils let you be in control. Direct traffic and prevent accidents by correctly labeling roads and lanes.
Custom Stencils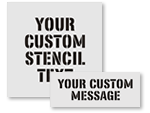 Design a custom stencil in sizes up to 8' wide. Include stripes, circular text, and graphics, or quickly build your own stencils.
Related Bike Signs
(45239)
Customer Reviews