School Speed Limit Signs
(42207)
Protect kids around schools from speeding vehicles. Speed Limit Signs and School Zone Signs require cars to slow down, which reduces the risk of accident.
• Our heavy-duty aluminum and reflective signs will last for years, come rain or shine. Choose from three grades of reflective aluminum for optimum visibility.
• Many of our signs come with the option to customize. Custom signs let you choose the speed limit and the wording.
• Parking lots are, unfortunately, the scene of many accidents. Prevent accidents by installing signs there, reminding cars to look both ways and to SLOW down.
Custom Speed Limit Signs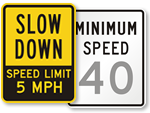 If too many people seem to be trying to race on your property, you should post a Custom Speed Limit Sign to remind them to slow down.
Other Related Speed Limit Signs
(42210)
Customer Reviews