Slow Children Playing MPH Signs
(34258)
Protect our greatest resource: Children. Driving slowly and carefully can make a world of difference. Signs remind drivers to drive cautiously and look around for unknowing kids and pets. Going slow saves lives, so post signs today.
• Post Slow Down signs to protect children and pets.
• Choose from signs for children, pets, pedestrians and bikers.
• Signs are made for all weather and last years.
• Scroll over signs for more details. Questions? Call our live support team today.
Deaf Child Signs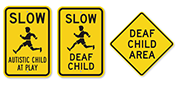 Deaf Child signs grab the attention of drivers to inform them of the possibility of a deaf child nearby.
Other Speed Limit Signs
(111224)
Customer Reviews