Supplemental Signs
(71808)
Use our Supplemental signs in conjunction with other signs like stop signs, guide signs, warning signs, street name signs, and more.
• Our supplemental signage conforms to the requirements of the MUTCD where noted.
• Made from heavy-duty aluminum, our signs are guaranteed for 10 years.
• Our signs have rounded corners for a professional look.
• Don't see what you need? Call our customer service center.
Custom Traffic Signs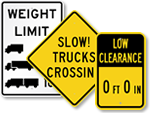 Browse through the collection to find your specific message.
More Supplemental Signs
(71810)
Customer Reviews