Distance Road Signs
(36208)
Our custom distance signs are perfect to mark lane changes, traffic circles and speed limit signs.
• Printed with fade-resistant inks, these signs are great for outdoor use.
• Supplemental signs conform to the design requirements of the MUTCD.
• Choose from stock and custom designs. Custom signs only take minutes to create!
• Choose from three different grades of reflective aluminum to ensure high visibility at night.
Custom Interstate Signs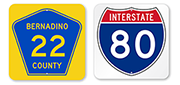 Signs are created with the same materials used for official interstate signs.
Related Custom Traffic Signs
(112283)
Customer Reviews