Adopt-a-Highway Signs
(64463)
Add your sponsor's name in bold letters. Adopt-a-highway signs recognize a company sponsor to your clean up campaigns.
• Find signs up to 3' wide. Smaller and larger signs are also available - just call our sales staff for assistance.
• The signs are made using 3M inks and films. These are the same signs ordered by our large governmental customers.
• To personalize your sign, click on a template and then add your text. It could not be easier to order a customized highway sign.
City Limit Signs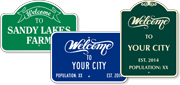 Welcome visitors to your community (or home!). Find official signs that are easy to personalize.
Other HIghway Signs
(111862)
Customer Reviews