Road Warning Signs
(36058)
Alert drivers to changing road conditions with
Road Warning Signs
. Protect both drivers and workers with heavy-duty aluminum signs that get noticed.
• Huge selection of Road Work, Road Closed, Detour signs and much more!
• Meet all of the latest road safety regulations with MUTCD-compliant designs.
• Durable aluminum signs have a 10-year warranty.
• Our Narrow Road Signs, Turn Signs and other Road Traffic Signs are best to catch attention of the drivers at all times.
• For more information, visit our - Road Warning FAQs
Custom Signs by Shape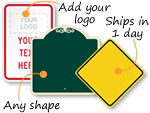 Find 100's more templates. Or upload your own design.
Road Warning Signs - Featured Products
(72028)
Frequently Asked Questions
Q.
How durable are your Traffic Warning Signs?
A.
We use heavy-duty aluminum for our traffic warning signs. These are available in standard aluminum and three grades of reflective aluminum material choices. These signs come with a 10-year warranty and an outdoor life of at least 10 years. The diamond-grade reflective aluminum warning signs will easily last you more than 12 years outside.
Q.
Are your road warning signs MUTCD-compliant?
A.
Yes, our road warning signs are designed to comply with Chapter 2C of the MUTCD. The signs are diamond-shaped with the legend in black on a yellow background. We use reflective aluminum for these signs and offer fluorescent formats as well.
We keep all the other MUTCD specifications, such as size, design, wording, etc., also in mind while designing our traffic warning signs. Take, for example, our MUTCD-compliant school-specific warning signs, most of which feature a black legend on a fluorescent yellow-green background.
Q.
How soon can traffic warning signs be shipped?
A.
Our stock signs are usually shipped within 1-3 days of placing the order and many can be shipped the same day. You may see the shipping time on the product page. The shipping details are provided during the checkout process as well.
Q.
Will I get a discount if I order warning signs in bulk?
A.
Of course! We offer quantity-based discounts that lead to a decreased cost per unit of goods or materials when purchased in greater numbers. Please contact us at 800 952 1457 or [email protected], and our team will share the best quote and price for your order.
Please note that the items to be purchased must be the same design, size, material, color, and print for this discount to apply.
Q.
How much shipping do you charge for international orders?
A.
International shipping charges depend on costs such as import duty, custom duty, sales tax, VAT, and the actual shipping cost. These are visible during the checkout process. Additionally, you may reach out to us at [email protected] or 1 (718) 889 3700 with your requirements, and our team will share the best possible quote with you.
Q.
Is it possible to get the signs delivered to a PO Box?
A.
This may not be possible as all our orders are shipped through UPS, and they do not provide this facility.