City Limit Signs & Custom City Signs
(63887)
Official
City Limit Signs
mark the edge of your town. Offer a warm greeting to visitors or a "welcome back" to residents.
• Made from 3M materials, come with a 10-year guarantee.
• Also use smaller sizes – for home or property use. Add a street name or your nickname for your home.
• It's easy to order a custom city sign. Start by selecting a template and then just add your own text.
Speed Limit Signs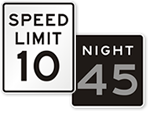 Premium, durable films and inks. Great quality at affordable prices. Browse our popular signs below to get started.
More Ideas for Signs
(64557)
These are ideal presents for the road warrior friend or relative.
Customer Reviews