Bicycle Crossing Signs
(34596)
Clearly mark bike crossing intersections with durable, reflective signs.
• We offer MUTCD-compliant and traditional signs for bike lanes and bicyclists.
• Add a supplemental sign below or adjacent to your Bicycle Crossing Sign. Choose from additional text, arrows, or other bike route information.
• Heavy duty signs use 3M inks and films mounted directly onto 80 mm thick sign grade aluminum.
• Scroll over signs for more details. Don't see what you are looking for? Call us and we'd love to help you.
Bicycle Traffic Signs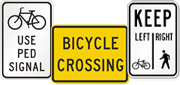 Prevent bike accidents by carefully labeling the road with Bicycle Traffic Signs.
Bicycle Crossing Signs - Related Products
(71745)
Customer Reviews