Children Crossing Signs
(56283)
Kids are taught to look both ways before they cross the street. Make sure motorists do too with our eye-catching signs.
• Install some of our wide range of Children Crossing Signs at crosswalks, schools and playgrounds to preven accidents.
• We offer signs with a great outdoor life, built to withstand abuse and high temperatures.
• You can also customize your own Children Crossing Sign.
World's Best Crossing Sign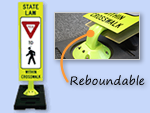 Reboundable, super bright, two-sided sign uses a heavy duty base. Place sign in crosswalk.
Children Crossing Signs - Others
(63622)
Customer Reviews