Pedestrian Crosswalk Signs
(58114)
Our
pedestrian crosswalk signs
are the best on the market. Portable sign base is made recycled tire. Material hugs the pavement and won't blow over.
• Patented post doesn't have springs, it rebounds to the upright position. System doesn't have mechanical parts.
• Reflexite fluorescent reflective film is the brightest sign material on the market.
• Double-sided and easy to replace. You can just pull out the screws and swap out a new sign.
• Protect pedestrians, vehicles, and parking lot surfaces all in one with FlexPost's® 2 sided flex paddles. 360° of flexability prevent damage from being done while maintaining high visibility.
Custom Pedestrian Signs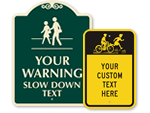 The perfect Custom Pedestrian Sign for roads and crossings in your community.
More Pedestrian Signs
(70801)
Customer Reviews