Custom Slow Down Signs
(35523)
Too many cars speeding by? Use our easy (and fun) wizard to customize your Slow Down sign with whatever text you choose. With custom Slow Down signs, you're in charge.
• A Slow Down sign is the most effective way to increase safety.
• Customize your own Slow Down sign to your heart's desire. Prevent an accident with personalized text.
• Hover the mouse over any of the signs below for more information.
Custom Speed Limit Signs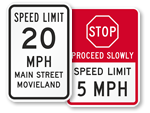 Post a custom speed limit sign giving motorists a friendly reminder to drive safely.
Slow Down Signs - Related Products
(85282)
Customer Reviews