School Zone Signs
(35527)
School Zone signs force speedy drivers to slow down.
• Alert drivers to school zones.
• Bright yellow signs made from heavy-duty reflective aluminum get noticed and are guaranteed for 10 years.
• Hover your mouse over a specific sign to view more information on price and model.
School Ahead Signs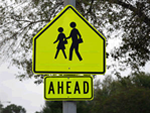 School Ahead signs alert drivers of crossing school children.
Other School Signs
(111818)
Customer Reviews