Do Not Enter Signs
(42582)
Post a
do not enter
or
wrong way
sign to prevent accidents, direct drivers, and discourage uninvited vehicles on your property.
• Order in reflective materials for high visibility, day or night.
• Start with a custom template to create your own sign in seconds.
• Check out our MUTCD-compliant options below for more information.
• For more information, visit our - Do Not Enter FAQs
One Way Signs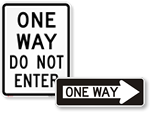 Our products are made with the highest quality 3M matched component inks, films, and reflective grades.
Other Related Signs
(42588)
Frequently Asked Questions
Q.
Are Do Not Enter Floor Signs reflective?
A.
We offer the "STOP - Do Not Enter" floor sign in both non-reflective and reflective formats. The SlipSafe Do Not Enter Floor sign is made from non-skid engineer grade reflective vinyl with an enclosed grit top surface. The textured surface helps prevent slips and skids. These signs promise good long-term use, even in high-traffic areas and forklift lanes.
Q.
Can Roll-n-Pole Do Not Enter Sign base withstand strong winds?
A.
The rolling portable pole sign holders are made from rustproof plastic technopolymers designed to withstand harsh environments. Whether it's snow, rain, sleet, or summer heat, the holders won't fracture, break or degrade. The heavy-duty base and split flanged bushing provide sturdy support to the signpost and facilitate stability when subjected to wind loads of up to 40 mph.
For additional weight and stability in windy conditions, you may add water, sand, or gravel in the ballast ports at the base of the sign holder. The ballast port has a capacity of 2.5 gallons, adding an extra 19-21 lbs of weight. These portable do not enter signs are perfect for parking lots and any other areas where temporary entry restrictions apply.
Q.
Are there any color options available for Do Not Enter Signs?
A.
You may explore our designer do not enter signs that are available in multiple color choices. These signs are made of highly durable materials that ensure that your message remains rustproof and does not fade for over 10 years outdoors. Reflective and customizable options are available as well.
Please note that these signs are not MUTCD compliant and should not be used on public roads. Please use these signs on controlled private property only.
Q.
How soon can a Custom Do Not Enter Sign be delivered?
A.
Our custom products are made to order and can take anywhere from 3-5 business days in production before being shipped. The order is released into production the business day after the proof is approved and delivered in about 7-10 business days.
Q.
Can an order be shipped using a UPS shipping account?
A.
Absolutely! Please leave your UPS account number in the instruction box while placing the order and we'll take care of the rest.
Q.
What happens if I do not like the product I receive?
A.
If you receive a damaged or incorrect stock item, you may email us at [email protected] with a picture of the item received and we will get the item replaced at no extra cost. Please note that custom orders cannot be returned.
Customer Reviews