Find both MUTCD-standard
One Way Signs
as well as mini options for your private road.
• Prices that beat the competition.
• Our products are made with the highest quality 3M matched component inks, films, and reflective grades.
• Find both stock designs and custom templates, so you can add a unique message.
• For more information, visit our - One Way FAQs
Arrow Traffic Signs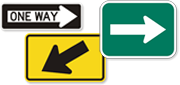 Arrow traffic signs direct vehicles and prevent accidents with plain and simple directions.

One Way Signs
What makes our best-selling One Way Signs durable and cost-effective? Watch this video to know.
Other Related Signs
(34545)
Frequently Asked Questions
Q.
What are the different levels of reflectivity offered for One Way signage?
A.
- Engineer Grade reflective signs offer a basic level of reflectivity in completely dark conditions. Signs with Engineer Grade reflective sheeting last for at least 7 years outdoors. These standard grade signs are the most common in the US.
- High IntensityGrade Reflective Signs offer up to three times more reflectance than engineer grade reflective signs. 3M's prismatic sheeting offers greater reflectance straight on but is especially bright when approached from an angle.

- Diamond Grade reflective signs offer ten times the reflectivity of Engineer grade signs and come with an outdoor life of at least 12 years. These signs combine high daytime conspicuity with superior nighttime reflectivity along with wide-angle reflective performance. Diamond grade signs are the best choice for places with many visual distractions like the busy city streets.
Q.
What is the material of One Way Magnetic Signs?
A.
One Way Magnetic Signs are die-cut into an arrow's shape and are made from a 32 mil thick rubber material embedded with magnetic ferrite particles. The flexible material has a strong magnetic backing that can be applied on any metal surface and can be repositioned very easily without leaving any residue behind. This quality makes these magnetic signs a perfect choice for marking temporary one-ways like creating one-way aisles in stores during the pandemic. Signs can be easily placed on metal racks or equipment too. We also offer the reflective version of these magnetic signs. The reflective magnetic signs are easy to spot with a flashlight or headlight in dark or at night.
Q.
What is the size of Arrow-shaped One Way Signs?
A.
We have One Way signs in the shape of a left arrow and a right arrow, respectively. The arrow cutout one way sign is available in two sizes, i.e., 6"x 18" and 9" x 27". We also have magnetic arrow-shaped signs that measure 10.25" x 16".
There are other One Way signs with a left, right, or bidirectional arrow printed on them, all offered in different sizes.
Q.
What are the advantages of using One Way Stencils?
A.
One Way Stencils offer a lot of advantages, some of which are listed here.
Reusability: Unlike signs that can be mounted only at one location, stencils can imprint the same message at multiple locations. One stencil can be used many times.
Cost-effective: Stencils are reusable, so there is no need to buy separate signs for multiple locations. Buy only one stencil and imprint the same message at various locations.
Easy to clean: Made of ABS plastic, our stencils do not absorb paint. All the extra paint can be washed off with water. Flexing or bending causes dry paint to crack, flake, and peel right off.
Visibility: A stenciled message is right under the nose and can't be missed, unlike a mounted sign which can be obscured by many visual distractions.
Q.
We are a parking management chain and run our business across the country. Do you offer bulk quantity discounts on One Way Signs?
A.
Yes, we do offer bulk quantity discounts on One Way Signs as an incentive. However, all items must be of the same design, size, material, color and print to qualify for bulk quantity discounts.
Q.
Our visitors come from several countries? Do you have One Way signs other than English?
A.
Yes. We do offer Bilingual One Way Signs with the message in English and Spanish. Signs with the text "Una Via" make sure that Spanish drivers and guests also understand your message very well. Bilingual signs keep guesswork and confusion out and save time.
Q.
What is the turnaround time for these One Way Signs?
A.
All of our One Way Signs in stock are ready to ship and can take anywhere from 1 to 3 business days before they are shipped. Processing begins the day that you finalize your design. For rush orders, please email our customer service department - [email protected] Your orders can be tracked in the My Account tab. Unless otherwise specified, all delivery dates are estimates only.
Customer Reviews