Find both MUTCD-standard
One Way Signs
as well as mini options for your private road.
• Prices that beat the competition.
• Our products are made with the highest quality 3M matched component inks, films, and reflective grades.
• Find both stock designs and custom templates, so you can add a unique message.
Arrow Traffic Signs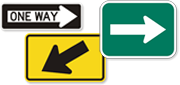 Arrow traffic signs direct vehicles and prevent accidents with plain and simple directions.

One Way Signs
What makes our best-selling One Way Signs durable and cost-effective? Watch this video to know.
Other Related Signs
(34545)
Customer Reviews