Prevent illegal
U-turns
at intersections or in your private driveway. Unauthorized turns create dangerous situations for drivers and pedestrians. Use a simple reminder to keep everyone safe.
• Prevent illegal and dangerous turns.
• Reflective signs are highly visible, day or night.
• Choose one of our durable signs below to get started.
Designer No U-Turn Signs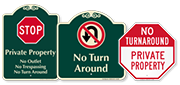 Explore other designs. Great for private properties and long driveways.
Other Related Products
(77739)
Customer Reviews