Keepsake Novelty Street Signs
(70444)
Novelty street signs
are keepsake personalized signs, made of heavy, durable materials. These street name signs can be customized by adding stylish messages that last over 10 years outside, but signs
are not MUTCD-compliant
.
• Printed on one side, in one piece. Perfect for an office, bedroom door, or hallway.
• Choose from a range of available designs. Our designer keepsake signs will come on reflective material for added flare!
• Features rounded corners and burr-free edges for your home.
Personalized Street Signs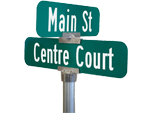 Personalized street signs are a great addition to your personal space.
Other Street Signs
(111980)
Customer Reviews