Lane Closed Signs
(84336)
Construction on roadways is something that you can not avoid. Keep drivers informed of upcoming lane closures with our eye catching designs.
• Durable aluminum signs last up to 10 years, resisting degradation by weather abuse and rough handling.
• All signs have pre-cleared holes to allow for hassle-free installation.
• Scroll over signs for more details. Don't see what you're looking for? Give us a call. Our live support team would love to help you.
Road Closed Signs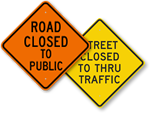 Keep motorists informed of upcoming road, street and bridge closures.
Customer Reviews
Part #: X-W9-3R
36" x 36"
Engineer Grade Reflective Aluminum Sign, 80 mil
Verified Purchase
works for me
works for me