SmartSign is proud to offer a full range of portable sign stands to meet your work zone, traffic and parking signage needs. Our stands are constructed from durable steel components with high-strength aircraft aluminum legs, and our signfaces are engineered to prevent twisting, turning, distorting, and delamination due to adverse weather or temperature fluctuations.
• Portable stands are easy to set up and disassemble. Stands are designed to withstand gusty winds and firmly hold standard roll-up signs, while our 4000 series stands support both roll-up and rigid signs.
• Each signface is available in four durable varieties—Compact, Duralatch, 4-Pocket Sewn, and 4-Pocket Plastic—all compatible with our line of portable stands.
Windmaster Quick Guide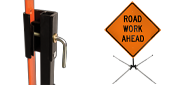 Having trouble deciding which stand you'll need? See this guide to quickly compare different stand features.

Portable Traffic Control Signs
These road signs are as tough as they come, yet lightweight and simple to use.
Roll-Up Signface Legends
(86254)
Customer Reviews