MUTCD Route Marker Signs
(30602)
Make sure drivers know which way to go with these clear and simple route signs.
• Choose from a wide selection of route markers, directional signs, and auxiliary signs. Create your own custom route marker of your favorite highway.
• Route Marker Signs are available in a variety of grades including Engineer, High Intensity, and Diamond Grade and are constructed of heavy duty 80 mil thick aluminum.
• With our customization wizard, you can see how your sign will look like while you create it! And it only takes a few minutes! When you're ready with your design, we will ship your custom route marker sign within 1-2 days.
• To see a preview of prices and materials, hover your mouse over any of the route marker signs below.
MUTCD Guide Signs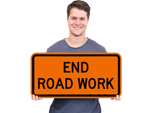 Post these easy to understand guide signs and make sure that no matter where your visitors come from they can understand.
MUTCD Route Marker Signs - Featured Products
(35716)
Customer Reviews