"You just missed him… he really was here!". Well, your friends and family will start to believe the latest sighting with a real Sasquatch Sign.
• These are NOT flimsy "novelty" signs – that you find everywhere. Our factory makes these Big Foot Sasquatch Signs just like the signs we make for 100's of cities and counties across the US. Signs are heavy duty and official.
• Big Foot Signs are also available in some "Big Sizes", too – over 3' tall.
Easy to Order!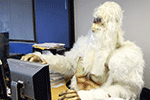 As busy as you might be stomping around the woods, you'll certainly find time to order a sign. Pick a design and choose a size. Takes under a minute.
Customer Reviews