Animal Crossing Signs
(34122)
Beware! Animals Crossing. Protect your livestock and horses by posting signs where animals generally cross. Signs let drivers know to stay alert and watch out for animals. Prevent accidents by letting drivers know what to expect. Browse the categories below to find all the animal crossing signs you need.
Don't see what you need? Call our live support and we would love to help!
• We offer over 100 different crossing signs. Use our instant search box above to narrow your choices. Only some of our most popular animal crossing signs are shown below.
Pedestrian Crossing Signs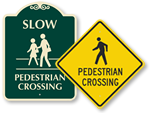 Show Pedestrians where to cross - and where not to cross.
Animal Crossing Sign by Type
(51175)
Customer Reviews