Tell motorists where and when to stop!
Stop Here Signs
reduce confusion and ensure an orderly flow of traffic. These signs can be used at grade crossing to inform drivers of the location of the stop line or the point at which to stop when the flashing-light signals are activated.
• Municipal-grade signs are made from heavy duty, 80-mil thick aluminum and laminated with 3M's reflective films, available in three reflectivity grades.
• Stop Here Signs, Prepare To Stop Signs, and Be Prepared to Stop Signs are MUTCD-compliant where noted.
Traffic Stop Signs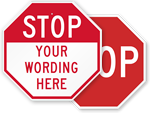 Choose the best grade for your STOP signs based on local safety requirements.
Customer Reviews