Traffic Stop Signs
(26198)
Choose the best grade for your
STOP signs
based on local safety requirements, and how much light you need on your roads.
• We offer 3 types of reflectivity: engineer, high intensity, and diamond grade.
• Need help picking the right grade? View Grades of Reflectivity
Or give us a call if you have any questions.
Custom Stop Signs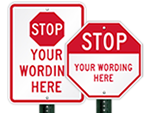 Create your own sign in a minute. A custom stop sign with a specific warning is the most effective sign you can make.

Custom Stop Signs
Add your own design to a traditional red octagon, to make your own custom stop sign.
Customer Reviews