Traffic Stop Signs
(26198)
Choose the best grade for your
STOP signs
based on local safety requirements, and how much light you need on your roads.
Custom Stop Signs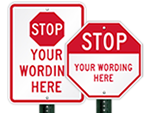 Create your own sign in a minute. A custom stop sign with a specific warning is the most effective sign you can make.

Custom Stop Signs
Add your own design to a traditional red octagon, to make your own custom stop sign.
Frequently Asked Questions
Q.
What are supplemental stop signs?
A.
Supplemental stop signs are used with the standard stop sign to convey additional information about the direction of traffic flow that the stop signal applies to.
Q.
When can custom stop signs be used?
A.
Custom stop signs can be used to convey property-specific stop policy. You may add instructions such as intersection ahead, pedestrian crossing, stop for security check, speed limit, etc. to these signs. We offer a variety of customizable stop sign templates such as mountable signs, cone collars, designer stop signs, and standing floor signs.
Q.
Where can I use stop stencils?
A.
A cost-effective way to install signs, our reusable stop stencils are perfect for parking lots and spaces such as production floors, forklift areas, loading stations, etc., in facilities. You may use these to create a stop sign with the help of our stencil inks that are available in seven assorted colors.
Q.
Which grade of reflectivity is best for parking lot stop signs?
A.
Durable and economical, engineer grade reflective stop signs are commonly used in parking lots. You may also opt for our hi-intensity reflective stop signs that promise superior reflectivity, particularly when approached from an angle. These are prismatic, come with a 10-year outdoor life warranty, and make the most common traffic sign material.
We offer diamond grade reflective stop signs as well, the highest reflectivity grade with 12+ years of life. Most suitable for visually cluttered environments such as urbanscapes. Please refer to this resource for more information on different reflectivity grades and their usage.
Q.
I want to install a stop sign on my driveway. Is it legal?
A.
Although private driveways on privately-owned properties do not have to follow strict guidelines as public roads, it is best to contact your nearest local traffic authority office to get accurate guidance as traffic policies and signage guidelines vary across states.
Q.
Can I pick my stop sign from your production facility?
A.
We do not offer this facility. All the products are shipped to the provided shipping address through UPS and are delivered in 7-10 business days.
Customer Reviews