Tractor Crossing Signs
(34605)
Give vehicles plenty of warning as they approach a working farm. Tractor crossing and heavy equipment crossing signs are made from durable 80 mm thick aluminum that will not rust. Post signs to remind drivers to share the road with crossing tractors and local farmers.
• For additional instructions, add a supplemental sign below your tractor warning sign.
• When you hover your mouse over any of these tractor crossing signs you will see a preview of the prices and sizes.
• Click here to find a greater selection of farm and ranch traffic signs.
Farm Signs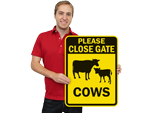 Find stock designs or custom templates where you can add your own message - all at the lowest prices on the web!
Other Tractor Crossing Signs
(69622)
Customer Reviews