Regardless of what animals you have or what food you harvest, your farm needs signs to run safely and efficiently. From Gate signs to Traffic signs you will find everything you need below. Find stock designs or custom templates where you can add your own message - all at the lowest prices on the web!
• Label your farm with a tremendous selection of farm signs.
• Signs are made from 3M, professional grade aluminum, giving them the toughness needed to outlast even the worst storms.
• Hover over the sign images with your mouse to view more information on features, pricing, and sizes.
• Click through the departments below to narrow down your search by category.
• If you need further assistance, please don't hesitate to call us.
Animal Crossing Signs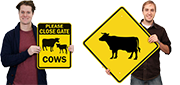 Find 50+ other crossing signs. Signs are offical, durable and, mainly, fun!
Farm Signs by Category
(43007)
Customer Reviews